Mid-State Filigree Systems Reaching New Heights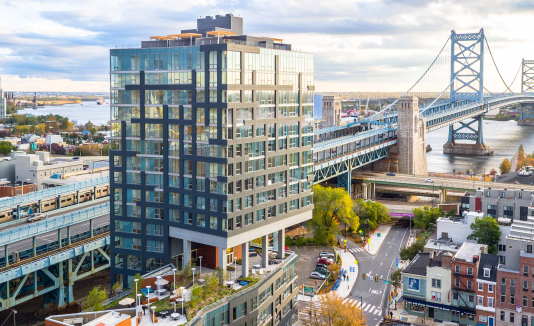 MFS Filigree Project Receives Best New Building Award
One of Mid-State Filigree's (MFS) projects, the Bridge in Old City, was just recognized by Curbed Philly as Best New Building as part of their Best New Architecture and Urban Design Awards of 2017. Most notable is the 25′ cantilevered corner of the upper stories and the mid-tower plaza.

The Race Street project used Filigree voided flat plate slabs in its construction. At 18 stories, the luxury apartment complex stands as one of the tallest buildings in Old City.

Congratulations to MFS and the Bridge in Old City!
Mid-State Filigree Systems Represented at Concrete Convention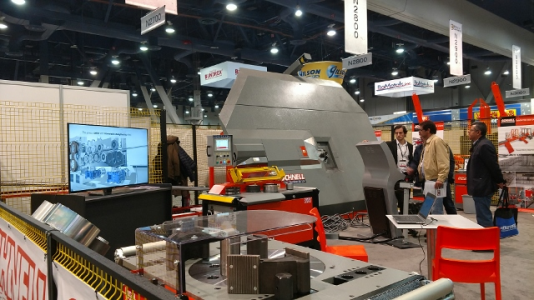 This Automated Rebar Bender is One of the Many Exhibits at the World of Concrete Convention in Las Vegas
In an effort to keep up with the latest trends in the concrete industry, MFS attended the World of Concrete exhibition and conference in January.

The convention, which took place in Las Vegas, Nevada, featured indoor and outdoor exhibits of leading suppliers showcasing innovative products and technologies in commercial concrete. In addition to the numerous trade displays, the convention held various education and training workshops and seminars.

"The World of Concrete convention was very informative," said Ted Betz, Vice President of Engineering. "I was able to evaluate some of the latest products under realistic test conditions, which could be incorporated into our operation."

The World of Concrete conference has been the industry's only annual international event dedicated to the commercial concrete and masonry construction industries. Approximately 1500 exhibitors of equipment manufacturers from around the world showcased equipment, tools, products, and services for the commercial construction, concrete, and masonry industries. The ACI-sponsored certification seminar sessions, given by top industry experts, provided training, updates, and certifications.

The Beach at South Inlet, Atlantic City, N.J.

The Beach at South Inlet, another MFS project, was topped out in January. Fifty years after the land was cleared for redevelopment, Boraie Development built 250 sleek apartments on what was left of Pauline's Prairie. The 80-acre tract of land was originally cleared for urban renewal by Pauline Hill, the Atlantic City Housing Authority Director, in 1972. It remained vacant and barren until Boraie Development built the $81 million dollar residential complex.

The project used 90,000 square-feet of Filigree Beam and Slab to construct pool and podium decks to elevate and support four floors of wood-framed housing. Elevating the residential space gave the residents greater security while providing space for parking and commercial use.
The Sono Collection Mall
MFS continued to deliver to the Norwalk, Conn. "The Sono Collection" Mall. a 1.2 million square feet garage using Filigree slabs and 60′ long-span slab beams.